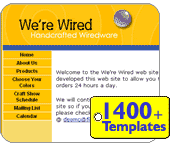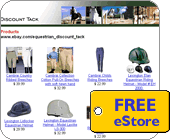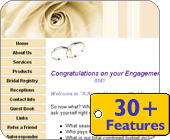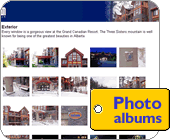 List of Features

to create standard
editable web pages
Articles
Auto-responder
Website Calendar
Catalogue
Contacts
Custom Feedback
Form on your website
Coupons
Download: Selling
e-books-Files
Guest Book -
Creating a BLOG
Hours of Operation
Links to web pages
Mailing
List/Newsletters
Maps on your website
Message Board-
Create a BLOG
Multimedia
Photo Albums
Polls
Press Releases
Questions and
Answers
Quotes
Recommend Website
Redirect
Table of Contents
Layout
Website Page
eCommerce online
Shopping Cart
eBay Integration
direct from your
web site
Build a business
website in under 5
minutes from now
Free online web site builder
In less than five minutes you can have a website for your business or personal website live on the internet.

As Easy as Using Microsoft Word

Over 172,000 people just like you have used Design-Own-Web to build professional websites, complete with web pages, photo albums, email, links and 27 other features without ever having built a web site before. A free online site builder, make own web software to make your own website, homepage, personal ecommerce etc. A unique online website design software.

We host your website for you.
Features below come FREE as
standard with DesignOwnWeb
which means you will have
everything you could possibly
need in one web site package
Software (instant access through the internet. No down-loading)
24/7 online support to assist you
250 + pages of FAQ's
e-Commerce online shopping cart
Direct integration with eBay
Website Domain Name
Web site Start-up Video
Step-by-Step start up guide with detailed screen shots of each step
5 e-mail addresses
A library of over 1800 Images
Over 1400 Website Templates
SEO guide to show and teach you how to get your website listed on over 200 search engines free
In depth comprehensive literature on. How to drive traffic to your website

Additional Bonuses
to help you succeed
with your new Website

Google Adwords $50 Credit
Yahoo! Search Marketing
pay-per-click advertising for your web site $60 Credit
Bidvertiser pay-per-click advertising. $25 Credit
Findology.com search engine
advertising. $50 Credit
List your web site products on
Shopping.com Listing$50 Credit
List your web site products on
Shopzilla.com Listings$50 Credit
Get your website listed on
Google faster with Google
Sitemaps submission FREE
Make money posting ads
from Google Adsense. FREE
Make money posting ads from
Filinet Banner Ad Network FREE
List your products on Froogle product search engine FREE
ExactSeek top 10 submission to
100+ second tier search engines
1 Month FREE
QuickBanner animated and flash
banner ad creation. 20% Off
Get products to sell on your
website from Wholesale Marketer
drop shippers 33% Off
"One of the most powerful ways to create a professional looking website."
David Chalk, Chalk TV
"My web site pages are as good or better than some of my friends who are in the same type of business. They also are amazed especially when one considers they paid upwards of $6,000.00 (approx.£3200) for their sites. No Kidding!
Your support is great! My website is great! I am happy."
Dale McIntosh
AMJ Funding Group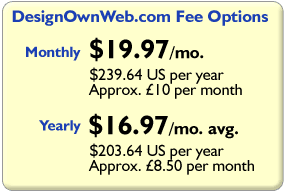 We offer a 10 day free web site hosting trial.
This will give you 10 days to try out our website software with no obligation to continue.
No credit card particulars required

You are free to unsubscribe your web site at any stage, no questions asked.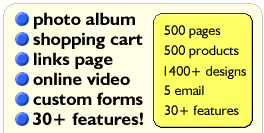 Features
Over $1000 worth of features are included free with Design-Own-Web.
Screenshots
A sampling of 30 sample websites you can see built with Design-Own-Web.
Benefits
Top 10 reasons Design-Own-Web users give for choosing Design-Own-Web.
How It Works
Shows you the 3 steps to get started with your site. Screenshots.
Shopping cart
With 500 products and lots of options, Design-Own-Web shopping cart delivers.
Easy Photo album
Post up to 500 photos and organize into many photo albums.
Easy Links Page
You can set up a links page to useful resources within minutes.
Have a website
designed for you
We could get you started with a
5 page professionally designed
website for $399 (Approx.£220)
Our website builder software is so
easy-to-use we recommend you
try using it first.
Contact us
If you would like to ask further
question about our website builder
software before signing on, feel
free to contact us at:


www.DesignOwnWeb.com